Du Barry Was A Lady (1943) starring Red Skelton, Lucille Ball, Gene Kelly
The basic plot of Du Barry Was A Lady is interesting. Hat check man Louis Blore (Red Skelton) is in love with nightclub star May Daly. (Lucille Ball) May, however, is love with a poor dancer (Gene Kelly). But due to her parents' poverty wants to marry for money. When Louis wins the Irish Sweepstakes, he asks May to marry him. She accepts even though she doesn't love him. Soon after, Louis has an accident and gets slipped a doctored drink (meant for Gene Kelly). He dreams that he €™s King Louis XV pursuing the infamous Madame Du Barry (Lucille Ball).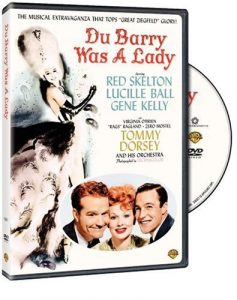 In short, it's an MGM musical comedy. With some wonderfully funny moments with two great clowns, Red Skelton and Lucille Ball.   Gene Kelly is also very good, as are Zero Mostel and Virginia O'Brien in comedic roles.   Many highlights to the film include Red Skelton doing a variation on his €œGuzzler's Gin € routine. He drinks a €˜mickey finn €meant for Gene Kelly. This segues into a dream sequence set in old France. Red Skelton is King Louis XV, Lucille Ball is Madame DuBarry, and Gene Kelly as the Black Arrow.   Some wonderful Cole Porter songs including the classic €œFriendship €, Madam, I Love your Crepes Suzette , Tommy Dorsey and his Orchestra (it is a musical, after all) and the comic interplay between the 3 main characters.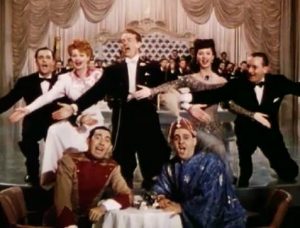 If you're interested in other Red Skelton musical comedies, be sure to check out:
Editorial review of DuBarry Was a Lady | Red Skelton | Lucille Ball | Gene Kelly, courtesy of Amazon.com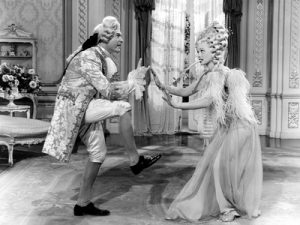 Presented in glorious Technicolor, Du Barry Was a Lady is an all-singing, all-dancing musical extravaganza with enough star power to light a major city. Freely adapted from the Cole Porter musical that was a Broadway smash in 1939, this was Lucille Ball's first color film, and after several years of lower-profile movies at RKO, Lucy jumped at the chance to star in an MGM musical, assuming the role that Ethel Merman had played on Broadway.
And while Lucy gets plenty of screen time to strut her stuff as the sassy and lovelorn nightclub singer May Daly, the real star of the show is Red Skelton as hat-check boy Louis Blore (played by Bert Lahr on Broadway), whose affection for May is matched by Alec Howe (Gene Kelly), a struggling songwriter with whom May — against her gold-digger instincts — has reluctantly fallen in love. But when newly-rich sweepstakes winner Louis accidentally drinks a €œMickey Finn € intended for Alec, he passes out and dreams of being France €™s King Louis XV, living in royal splendor and running after the lovely Madame Du Barry (Ball) in the palace at Versailles. It'™s a comedic spin on The Wizard of Oz, with the contemporary characters (including Zero Mostel in a wacky supporting role) playing their 18th-century counterparts.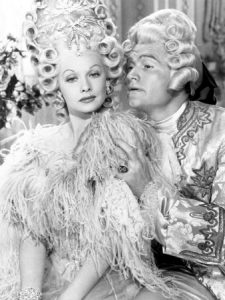 This free-form premise is merely a clever excuse for an eye-candy feast of musical comedy, and Du Barry Was a Lady works best as a smorgasbord of all-star entertainment, from the jazzy swing of Tommy Dorsey and his Orchestra (with Buddy Rich on drums) to the grand-scale production numbers featuring the splendidly costumed Vargas girls (made famous in the pages of Esquire magazine) and Gene Kelly at his fancy-footed best. It €™s a veritable explosion of Technicolor fun (this DVD transfer is nothing short of spectacular), and in addition to some fine singing by Virginia O €™Brien, vigilant movie buffs can spot Lana Turner in a small, uncredited role.
Also included in Lucille Ball Film Collection, this delightful DVD includes two short subjects from 1943: €œSeeing Hands € is an Oscar-nominated €œPete Smith Specialty € short about Ben Helwig, who overcame blindness to become a gifted machinist; the film'€™s progressive message encourages industry to hire persons with disabilities who can make a valuable contribution to wartime industry. Also included is the MGM €œBarney Bear € cartoon €œBah, Wilderness, € and a faded print of the original theatrical trailer for Du Barry Was a Lady, which really makes you appreciate the dazzling Technicolor of the full-length feature. —Jeff Shannon
Soundtrack for DuBarry Was A Lady
Du Barry Was A Lady (1943)

Music by Burton Lane, lyrics by Ralph Freed, played during the opening credits, sung by Lucille Ball (dubbed by Martha Mears) and chorus at the nightclub

Do I Love You? (1939)

Written by Cole Porter, played during the opening credits and often as background music, sung by Gene Kelly in May's dressing room, danced by Gene Kelly with a singing chorus at the nightclub, reprised by Tommy Dorsey & His Orchestra

Mon Homme (My Man) (1920)

Music by Maurice Yvain, background music when Rami imitates Charles Boyer

(I've Grown So Lonely) Thinking of You (1926)

Written by Walter Donaldson and Paul Ash, performed by The Three Oxford Boys imitating Kay Kyser and His Orchestra

A Cigarette, Sweet Music and You (1942)

Music and lyrics by Roy Ringwald

Sleepy Lagoon (1940)

Music by Eric Coates, lyrics by Jack Lawrence

You Are my Sunshine (1940)

Music and Lyrics by Jimmie Davis and Charles Mitchell

I'm Getting Sentimental Over You (1932)

(Tommy Dorsey's theme song) music by George Bassman, lyrics by Ned Washington

Salome (1943)

Music by Roger Edens, lyrics by E.Y. Harburg, sung by Virginia O'Brien with Tommy Dorsey & His Orchestra

I Love an Esquire Girl (1943)

Music by Roger Edens, lyrics by Lew Brown and Ralph Freed, sung by Red Skelton and chorus

Ladies of the Bath (1943)

Written by Roger Edens, sung by Red Skelton and chorus

Katie Went to Haiti (1939)

Written by Cole Porter, sung by The Pied Pipers, including Jo Stafford and Dick Haymes, with Tommy Dorsey & His Orchestra

Madame, I Love Your Crepes Suzettes (1943)

Music by Burton Lane, lyrics by Ralph Freed, sung and danced by Red Skelton and Lucille Ball (dubbed by Martha Mears)

Song of the Rebellion (1943)

Written by Roger Edens, sung by Gene Kelly and chorus

A Hot Time in the Old Town (1896)

Music by Theo. A. Metz, played by the band at the guillotine

Friendship (1939)

Written by Cole Porter, sung by Red Skelton, Lucille Ball (dubbed by Martha Mears), Gene Kelly, Virginia O'Brien, Tommy Dorsey, Rags Ragland and Zero Mostel, with Tommy Dorsey & His Orchestra

We'll Get It

Played by Tommy Dorsey & His Orchestra