The Greatest Show on Earth (1952) starring Charlton Heston, Jimmy Stewart, Cornell Wilde, Betty Hutton
DVD review of "The Greatest Show on Earth" starring Charlton Heston, Betty Hutton, James Stewart. To ensure a full profitable season, circus manager Brad Braden (Charlton Heston) engages The Great Sebastian (Cornell Wilde). Even though this moves his girlfriend Holly from her hard-won center trapeze spot. Holly and Sebastian begin a dangerous one-upmanship duel in the ring, while he pursues her on the ground. Subplots involve the secret past of Buttons the Clown (Jimmy Stewart). Also, the efforts of racketeers to move in on the game concessions. Let the show begin!
I have to admit to being a fan of The Greatest Show on Earth on several levels. First, it's simply a good, enjoyable film, with some very good performances. By Charlton Heston, Betty Hutton, Cornel Wilde and Jimmy Stewart — who shines through his makeup as Buttons the Clown. Secondly, it serves as a wonderful snapshot of what the Ringling Brothers Barnum & Bailey Circus was like in it's prime. Complete with performances by circus greats such as Emmett Kelly, Otto Griebling, and many more.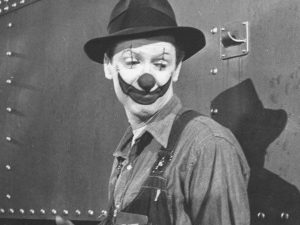 Are there any negatives? Yes. The great train wreck, towards the end of the film, looks truly unrealistic by today's standards. Not quite as bad as Godzilla eating Tokyo, but in that general vicinity. The plot resembles a soap opera, but that's okay. It gives us an excuse to see more of the various circus performers behind the scenes.
Overall, it's a very good movie that I enjoyed when I was younger. I enjoyed again now that I'm not quite so young. And it held my four youngest children spellbound the first time that they saw it as well.
Editorial review of The Greatest Show on Earth, starring Charlton Heston, Jimmy Stewart, courtesy of Amazon.com
The Greatest Show on Earth is a heaping helping of flapdoodle served up by one of Hollywood's canniest entertainers: producer-director Cecil B. DeMille. This overripe melodrama purports to be life inside the Ringling Brothers Circus; maybe it's not, but the circus ought to be like this. The actors wrestling with the purple dialogue are: early-career Charlton Heston, as the tough-as-nails circus manager; Cornel Wilde and Betty Hutton as trapeze artistes; and Gloria Grahame (who won an Oscar), dangling from elephants.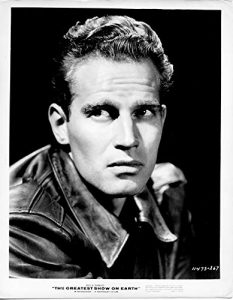 Best of all, James Stewart plays a clown who — €"for mysterious reasons — never removes his makeup. (Stewart took the supporting role simply because he'd always wanted to play a clown.) This is a fried-baloney sandwich of a movie: it ain't sophisticated, and probably isn't good for you, but once you start you can't stop. It was the box-office champ of 1952, and it shocked everybody by winning the best picture Oscar. —Robert Horton
Trivia for The Greatest Show on Earth (1952)
Cecil B. DeMille insisted everyone truly learn to perform the circus roles they were supposed to be "acting". This meant that Betty Hutton really did have to learn the trapeze and Gloria Grahame had to let an elephant rest its foot an inch from her face. Cornel Wilde probably had it the worst, as he was portraying a high-wire artist — and he was seriously afraid of heights.
Lucille Ball was Cecil B. DeMille's first choice for "Angel", but she became pregnant and was replaced by Gloria Grahame. Paulette Goddard also campaigned strongly for the role but was turned down owing to her reluctance to perform stunt scenes.
Cameos: Bob Hope, Diana Lynn, Bing Crosby as circus spectators.
This was only Heston's third film which skyrocketed him to fame. One fan wrote a letter to DeMille on how much she enjoyed the movie. He commented, "And I'm surprised how well the circus manager (Heston) worked with the real actors". Heston thought it was one of the best reviews he ever received.
While filming this movie, Cecil B. DeMille presented Betty Hutton with the Photoplay Award for favorite actress of 1950 for Annie Get Your Gun (1950).
Scenes were filmed at the actual winter quarters of the Ringling Bros.-Barnum & Bailey Circus in Sarasota, Florida. Additional scenes were filmed at an actual circus performance.
After the train wreck, Emmett Kelly is briefly seen without his "Weary Willie" makeup. He was a very private person and rarely allowed himself to be photographed out of character.