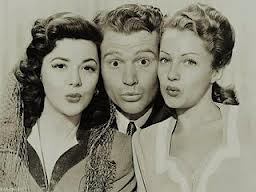 Whistling in Dixie (1942) starring Red Skelton, Ann Rutherford, Rags Ragland
Whistling in Dixie is the sequel to the popular Whistling in the Dark. Red Skelton again plays the role of Wally Benton, €˜aka. The Fox. He's a radio detective, who simply wants to take off two weeks of vacation so he can get married. To his long-suffering fiancee Carol Lambert (played by Ann Rutherford). Wally pretends to be on the verge of a nervous breakdown in order to twist his radio sponsor's arm in order to get that vacation. Only to have Carol change their plans when she's contacted by Ellamae (Diana Lewis), her sorority sister from Georgia, U.S.A. Ellamae's boyfriend appears to have been murdered. Carol convinces Wally to go down to Georgia to get married, and Wally complies. Only to get involved in the unraveling mystery.
Down South
Once down South, Wally and Carol register to get married (in a nod to Red's movie, The Fuller Brush Man, Red is traveling incognito as "Mr. Fuller"). The local clerk, Mr. Panky, soon divulges his identity to the District Attorney and the Sheriff – "You dragged it out of me!" However, not everything is as it appears … Another seeming source of danger is Chester, a former convict paroled into the custody of Judge Lee, Ellamae's uncle.
Chester, played by Rags Ragland, is the twin brother of Sylvester, one of the Silver Haven villains from the first movie, Whistling in the Dark. This initially leads to a funny case of mistaken identity. Wally attacks Chester while he's driving the car … And later to a more dangerous time as Sylvester escapes from prison, and arrives on the scene.
The mystery soon turns into a hunt for lost treasure and has numerous funny moments, plot twists, and dangerous moments (such as trying to escape from a sealed room before they drown). The ending is one of the best, funniest climaxes that I've seen in a movie; the confusion between Chester and Sylvester is laugh-out-loud funny. It's a very good movie, which I rate 4 clowns out of 5.
Be sure to check out the funny movie quotes for Whistling in Dixie as well.