Movie review of Merton of the Movies (1947), starring Red Skelton, Virginia O'Brien
Merton of the Movies is set in the silent movie era of Hollywood. Red Skelton plays the part of Gil Merton, a naive, movie-struck young man. He's given a chance to be a star…. But he doesn't realize it. A very funny, and sweet, Red Skelton movie co-starring Virginia O'Brien.
In Merton of the Movies, Red Skelton plays the role of Gil Merton. Gil's a star-struck movie usher in Tinkerton, Kansas in 1915. He dreams of becoming a great dramatic actor in silent movies.  Despite his mail-order diploma from the 'famous' Budolph School of Dramatic Arts, Gil is going nowhere fast. Until he's fired from his job as a movie usher and ineptly prevents a robbery at the box office. He does so by imitating the screen antics of his movie hero, Lawrence Rupert (Leon Ames).   As a publicity stunt, Rupert invites Merton to Hollywood. The star-struck Merton keeps trying to tell Rupert how much he thinks of him. Only to be repeatedly interrupted by the various public relations people.   Afterward, Merton is left on his own; rather than returning to Kansas, Merton decides to stay in Hollywood, and become a great dramatic actor.
In Hollywood
After spending much time having doors slammed in his face, Merton runs into Phyllis Montague. Played by the beautiful and talented Virginia O'Brien). She's a stuntwoman and bit actress. And she offers him the opportunity to see a scene being filmed that night starring Beulah Baxter (Gloria Grahame). There's a very funny scene where Merton, turned away by a security guard. He goes to a nearby phone booth and calls the security guard, imitating a director, and "inviting" Mr. Merton to come back.
He does so, and watches the famous movie actress, Beulah Baxter, filming a dangerous scene. "She does all her own stunts!" Only to see Phyllis do the stunt work. It's a sweet scene, as Merton jumps into the water to save "Miss Baxter" …. Only to remember that he can't swim! Phyllis rescues him, and they dry off while they talk. This results in them becoming closer, Merton becoming a little less naive, and Phyllis finally getting a starring role.
Into the movies!
Merton is working nights at the "Goodfellows Club" to provide for himself.  Its a hilarious non-speaking scene as Red/Merton has to work in a room for older gentlemen without making a sound. Until he drops a cascade of light bulbs, and is fired.   Merton is on the verge of giving up, when he is given a chance to have a small role on-screen. But he fails miserably, and hilariously.   Later, various studio people watch his outtakes and are rolling in the aisles laughing.  He isn't a very good dramatic actor, but he has a natural talent for comedy.   When Lawrence Rupert becomes unavailable to film his movie, Phyllis recommends Merton to take his place,. And turn the movie into a comedy.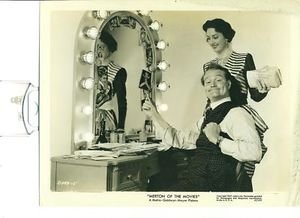 The idea is a success, but everyone has to keep Merton in the dark. Since he would never burlesque his hero, Rupert. And he's funniest when he's trying to be serious.
Merton of the Movies is a very funny film, reminiscent of Singing in the Rain without the music.   Red Skelton plays a very sweet, naive, star-struck character, that the audience rapidly roots for; and as his love interest, Virginia O'Brien plays a likable, tough-as-nails character, whom Merton gradually gets to soften.   It's a very nice interaction between the two, making it a romantic comedy that I truly enjoyed watching.   Merton of the Movies has become one of my favorite Red Skelton movies, after the Whistling in the Dark series.   I rate it 4 clowns out of 5.  Be sure to enjoy the funny movie quotes from Merton of the Movies as well.
Trivia for Merton of the Movies, starring Red Skelton and Virginia O'Brien
This was Virginia O'Brien's final starring role and the last film she made for MGM. After this she had small roles in two later films but otherwise retired from the screen.
Virginia O'Brien did all of her own stunt work.
Editorial review of Merton of the Movies, starring Red Skelton, courtesy of Amazon.com
Stars in their eyes – laughter in the aisles! Two famed funnymen portray small town hick and Hollywood hopeful Merton Gill in the comedic tale that was first a novel, a beloved (and periodically reprised) stage hit and a silent film. Stuart Erwin adds a wistful note to Merton's Tinseltown dream in 1932's Make Me a Star. Red Skelton shows his gift for turning situations into extended gags in 1947's Merton of the Movies. Both films include star cameos: the Erwin comedy includes then-current luminaries (Tallulah Bankhead, Maurice Chevalier, Claudette Colbert and Gary Cooper), and the Skelton romp offers players whose glory years were in the silent era (including Chester Conklin and Franklyn Farnum). In the 1950s, Erwin and Skelton would reach even wider audiences in TV shows bearing their own names