movie review of I Dood It! (1943) starring Red Skelton, Eleanor Powell, directed by Vincente Minelli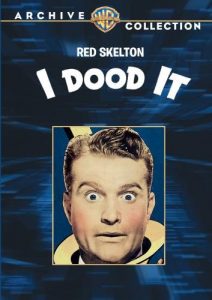 The movie I Dood It! is a musical comedy, dealing with a romance between two unlikely people – stage star Constance €œConnie € Show (played by Eleanor Powell), and pants presser at a hotel Joe Renolds (played by Red Skelton), with lots of comedy and musical numbers in-between.
Setting the stage
The movie begins with Connie Shaw dancing a very interesting €Dance of the Lariat € where her character is set. She's a successful dancing star on Broadway, who's in love with her leading man. This segues to introducing Joe , played by Red Skelon. He's a flunky who €™s pressing the pants of the people staying at the hotel where he €™s employed. His previous work ethic has been replaced by his €œborrowing € expensive clothes, and wasting his money. In order to see Connie €™s nightly performance. There'€™s a lot of inherent comedy, and Red Skelton does it very well. He makes it clear to the audience (and the suffering people sitting next to him) that he knows the play better than the actors. A point that becomes important later.
Nazi saboteur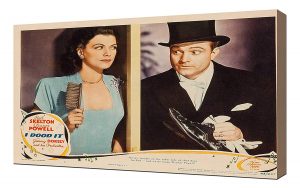 Unknown to everyone, one of the leads in the play is actually a Nazi saboteur. He's is spending his spare time in digging a hole into the warehouse next to the theater, containing munitions for the American war effort. Which he intends to destroy with a bomb. But that happens later. In the meantime, Connie is fighting for the affection of her co-star with her rich socialite rival Suetta (played by Patricia Dane) €… And losing. After several altercations, and an accidental meeting in a club between Joe and Constance (a very funny scene with Red Skelton at his best), Connie's heart is broken as her boyfriend proposes to Suetta. In a moment of pique, Connie €œproposes € to Joe in an effort to get even.
Happily married?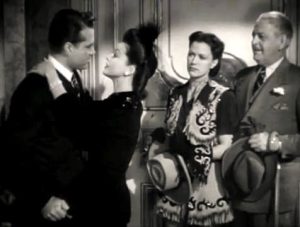 The love-struck Joe eagerly accepts, and can'€™t believe his good luck. As he tries to avoid his friend and boss. Who's trying to track down both Joe and the missing clothes. There€™s a very funny scene as Connie drinks the knock-out medicine that she'€™d intended for Joe. And chivalrous Joe tries to lay her limp body on the bed to sleep. While he spends his wedding night sleeping in a chair. Connie and her friends mistakenly think that Joe is a millionaire having a stake in a gold mine. But the truth comes out eventually, with Red, believing that he doesn't belong in Connie'€™s world, leaving.
Joe to the rescue
Despondent, having lost his girl and his job, Joe'€™s only consolation comes from Connie's maid Annette (played by Butterfly McQueen). And with her unwitting advice Joe tries to get back into Connie €™s life. However, he €™s been locked out of the theater so as not to interfere with Connie'€™s work. So Red Skelton works his comedy magic and sneaks in. He's covered by a prolonged musical number featuring the singing of the beautiful Lena Horne and the piano skills of Hazel Scott. It €™s a very entertaining number, and I €™m a huge fan of Lena Horne, but … it €™s an unnecessary musical number, that could be cut from the film, and the story wouldn't suffer. It's too bad, since it €™s such a beautiful number. But moving on …
Red is eventually discovered, but he manages to escape and make his way backstage. Where he manages to take over the role of one of the main characters in the play. The role played by the Nazi saboteur. Red clowns around putting on his makeup, and is a funny disaster on stage. Where he realizes what the saboteur is up to, and decides to stop him! Everyone working at the theater is trying to stop him, not realizing what is at stake. Except for Connie, who stands up for €œ"her Joe".. And helps him find the bomb in the nick of time.
Happy ending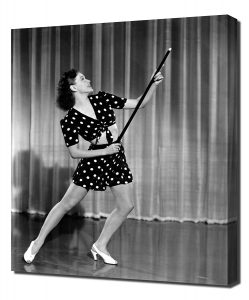 The requisite happy ending to the movie comes from Joe taking the reward for capturing the saboteur and investing it in Connie's next production. The movie ends with a final large musical number.
So, do I recommend I Dood It? Yes, with a few reservations; it €™s a good movie, but I wouldn €™t describe it as a great movie.   For an introduction to Red Skelton, I'd frankly start with the Whistling in the Dark series.   However, if you're a Red Skelton fan (or an Eleanor Powell fan, for that matter) I would definitely add it if I didn €™t already have it.
Be sure to check out the funny movie quotes from I Dood It as well.
Editorial review of I Dood It, starring Red Skelton and Eleanor Powell, courtesy of Amazon.com
Lovely, talented, famous – stage star Constance Shaw is everything pants presser Joe Reynolds can €™t have. Then one day, Constance decides to get back at her two-timing beau by marrying Joe.
The film'€™s title comes from a Red Skelton catchphrase, the storyline comes from Buster Keaton'€™s Spite Marriage and the fun comes from everywhere in this pratfalling musicomedy directed by Vincente Minnelli. Eleanor Powell dances. Lena Horne sings. Jimmy Dorsey swings. Hazel Scott sears the ivories. And Red (as Joe) doods the rest with routines that include his hilarious attempt to put his blotto honeymoon bride to bed and, in a nod to the era, with heroics that pit him against Nazi saboteurs. They're gonna get a whippin'™!
Trivia for I Dood It!
Footage for the number €œSwinging the Junx Away € was borrowed from Born to Dance (1936).
Eleanor Powell reportedly knocked herself out cold during rehearsals for the lariat dance.
Footage of the €œHawiian Medley € number was taken from Honolulu (1939).
The title of the film is from a catchphrase used by Red Skelton on his radio show when he was in character as the €œMean Widdle Kid €.