The Yellow Cab Man (1950) starring Red Skelton, Gloria DeHaven, Walter Slezak
The Yellow Cab Man begins with a very funny title sequence. The accident-prone "Red" Pirdy, portrayed by Red Skelton, falls down stairs and ends up in the hospital. He confides to the audience, "You know this is the best cast I've ever been in". With the various cast members having "signed" his cast. The film proper begins with character actor Charles Lane, an agent for an insurance company, turning Red down for insurance …. Since he's accident prone.
Which Red proceeds to demonstrate in a very funny scene where he's carrying an oversized cuckoo clock. He avoids one mishap after another. Only to eventually step out in front of a cab and be hurt. Later, the lovely Gloria DeHaven, playing Ellen Goodrich, shows up at Red's apartment, offering a settlement from the cab company. Red's an inventor, in the style of Rube Goldberg, which he demonstrates as she triggers his burglar alarm. It's soon revealed that Red has invented "elasti-glass", an unbreakable glass.
Demonstration gone wrong
He has a demonstration of it scheduled with the president of the Yellow Cab company. But due to skulduggery by Walter Slezak and Herbert Anderson, ordinary glass is substituted for Red's invention. And he ends up injuring the president of the company.
Gloria DeHaven's character is then demoted. And Red determines to help. Mickey , the cab man that hit Red the day before, played by James Gleason, convinces him to not give up. He arranges for Red to work as a Yellow Cab man (hence the title). Until an opportunity arrives to demonstrate it again.
The Yellow Cab Man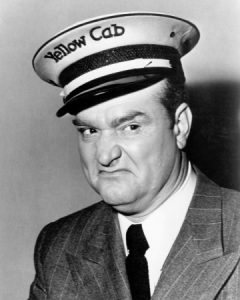 With the aid of Mickey, the Yellow Cab company hires Red. And he nearly loses his job on the very first day. He gets mixed up in a chaotic wedding reception. It's a very funny scene, where a bratty child takes Red's pocket watch and puts it into a mailbox. This leads people to think there's a bomb in the mailbox! Resulting in a very funny overreaction from the various police people.
Along the way, Walter Slezak's character, a disreputable "doctor," tries to convince Red that he has mental illness, trying to trick him into revealing the process to make "elasti-glass to a surrealistic scene where a drugged Red Skelton dreams that he's at the North Pole, where the doctor is a walrus. The movie concludes with an elaborate slapstick finale involving a revolving model home, a hypodermic-shooting toaster, a helium-filled balloon, and a Tarzan-like swing from the rafters of an empty warehouse.
Be sure to check out the funny movie quotes from The Yellow Cab Man as well!
Trivia for The Yellow Cab Man
For his next film, Three Little Words, Red Skelton plays the role of Tin Pan Alley songwriter Harry Ruby. In that same picture, Gloria DeHaven (Ellen) plays her own mother, Flora Parker DeHaven.
Herbert Anderson (Willis Tomlin) played the role of the father of Dennis the Menace on television; he also appeared in the Red Skelton film, Excuse My Dust.